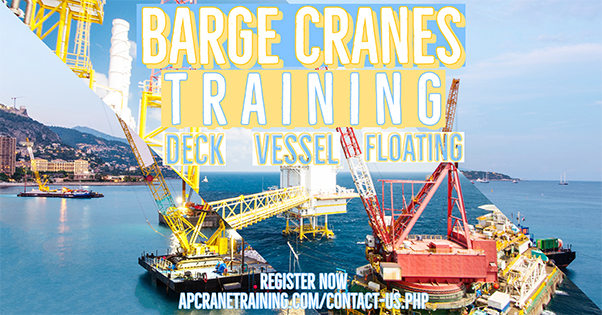 What are barge cranes?
A barge crane is basically a boat with a crane mounted on it. Barges normally a big boat with a flattened bottom that is primarily utilized to carry goods through rivers and canals. While certain barges are equipped with cranes for handling loads above water others are equipped with a separate crane. Sometimes barges are self-propelled and traveled by autopilot or they are almost regularly pulled by tow or a tugboat. Back in the days at the beginning of the industrial revolution, barges were also towed by animals that traveled the same direction through the water on a towpath.
How do barge cranes work?
Barge cranes work in a unique way pumping river water in chambers on the barge called ballast tanks or counterweight tanks. These tanks are used to fill so they can weigh down the crane's center of gravity. So when they are filled it allows the crane to safely lift loads when floating on top of the water.
While animals used to be involved and now they no longer are, these flat-bottomed barges are generally used in modern shipping transportation, essentially because hauling by barge is straightforward and cost-effective. These barge cranes are essentially appealing advantages in situations where the load is overweight or too big. Being a barge, which is normally averages in size 195 by 35 ft it has the power to up to 1,500 tons weight limit.
Different Types of Barges
Inland Barges
Deck Barges
Spud and Barge Cranes
There are three 3 to 4 types of barges but here are more types that are used for different various reasons. Here are 3 types of barges:
Inland Barges
Inland barges include the majority of barges working on the inland waters. These kinds of barges are designed to run on bays, rivers, canals, and inland lakes. Inland barges are the most economical method of moving oversized, massive volume, or heavyweight loads.
Deck Barges
Deck barges are intended to carry loads on their floor and vary in capability and architectural design, depending on its proposed use. Deck barges can support massive loads, rock, palletized stuff, animals, cattle, or even rocket boosters. In unusual situations, some hazardous liquid loads may be carried in the internal spill-proof sections. Deck barges can also be used as production floors. Serving as an additional workspace. Some deck barges are equipped with raised decks.
Spud and Barge Cranes
Spud and barge cranes are specifically built to sustain a practical excavator crane. Spud and crane barges typically have a boxed shape barge to support the best flotation while operating a crane on board.
All Purpose Crane Training
Get crane training courses on different kinds of barges; deck, vessel, and floating cranes. Barge cranes training for individuals and employers throughout the US online and onsite. Contact us today at (888) 501-1355.